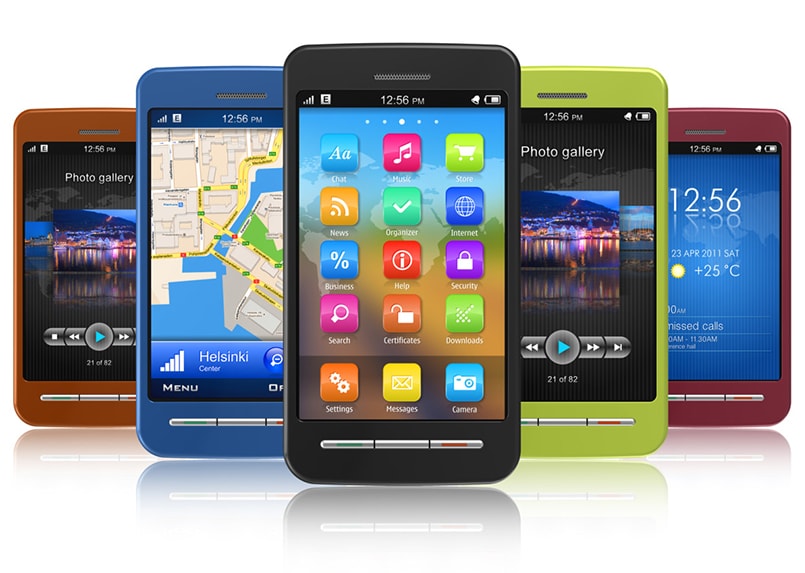 Mobile operating system (OS) is a software designed for smartphones, tablets, smartwatches and other mobile devices to be used and managed. It is an operating system that enables the users to launch and utilize the application installed on the mobile device.
Different mobile OS types combine the features of OS designed for PC and ones that are required only for mobile devices: support of cellular network, touchscreen, Bluetooth, Wi-Fi, voice recorder, video camera, GPS (Global Positioning System), voice and speech recognition, music player, near-field communication (NFC).
On the market, three core mobile OS types are now available:
Android created by Google. It has Linux kernel. It is an open-source OS and developers are able to create own products on the basis of its software. All applications available for Android devices are stored on Google Play.
iOS developed by Apple is an OS for iPhones, iPad, iPod and Apple Watch. It does not support the third-party software - you are able to instal only products developed by Apple. A number of applications created for iOS is available in the App Store. Safari is an in-built web browser.
Windows Phone created by Microsoft is a family of OSes. It was created as a replacement for Windows Mobile and Zune. The OS has a tile-based interface. It includes the optimized version of Internet Explorer.
Mobile OS can be open-source - available for modifications and changes made by user community - and closed source - unavailable for public review. All mobile OSes developed on the basis of Android are open-source. Besides, several Linux-based are also open-source.
Open-source mobile OS
Tizen is Linux-based OS that combines the features of MeeGo, Bada and LiMo. Samsung and Intel are among its developers. Tizen OS includes Tizen IVI (in-vehicle infotainment), Tizen Mobile, Tizen TV and Tizen Wearable. The system main components are Linux kernel and the WebKit runtime.
BlackBerry Secure developed by BlackBerry is OS created on the basis of AOSP (Android Open Source Project) and supports only BlackBerry devices.
ColorOS created by OPPO Electronics is Android-based OS that supports customization. Its design resembles a lot iOS.
LineageOS / Lineage Android Distribution is OS based on CyanogenMod that was created using AOSP.
EMUI (Emotion User interface) developed by Huawei Technologies Co. is a front-end interface based on AOSP. It supports Huawei and Honor devices.
Flyme OS developed by Meizu technology on the basis of AOSP. It is designed for Meizu brand smartphones but also supports several Android devices.
Indus OS is a custom OS developed on the basis of AOSP. It is available for the smartphone brands that are popular in India.
MIUI (Mi User Interface) is a mobile OS developed by Xiaomi Inc. and is based on AOSP for Xiaomi smartphones but also supports several Android-based devices.
Oxygen OS based on AOSP is mobile OS developed by OnePlus as a replacement for Cyanogen OS on OnePlus devices. It includes mostly Google applications.
Sailfish OS developed by Jolla is a mobile OS based on Linux kernel.
Fire OS is based on Android and developed by Amazon for content-delivery devices.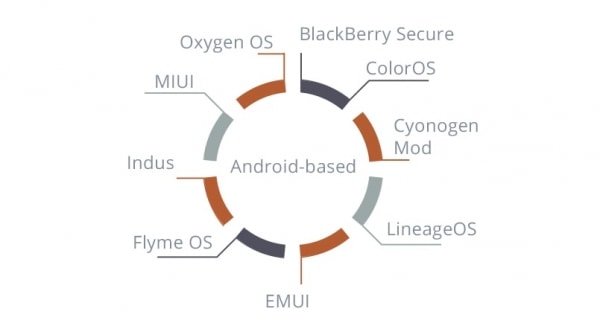 Closed source mobile OS
Windows 10 Mobile is a mobile operating system developed by Microsoft for Windows Phone products including smartphones and phablets.
BlackBerry 10 is OS for only BlackBerry phones and tablets. It is based on QNX OS (Quantum Software Systems).
The following OSes are not supported anymore: Ubuntu Touch, Firefox OS, MeeGo, BlackBerry OS, Windows Mobile, Symbian, Bada, webOS, Palm OS, CyanogenMod.
TEST MY PROJECT