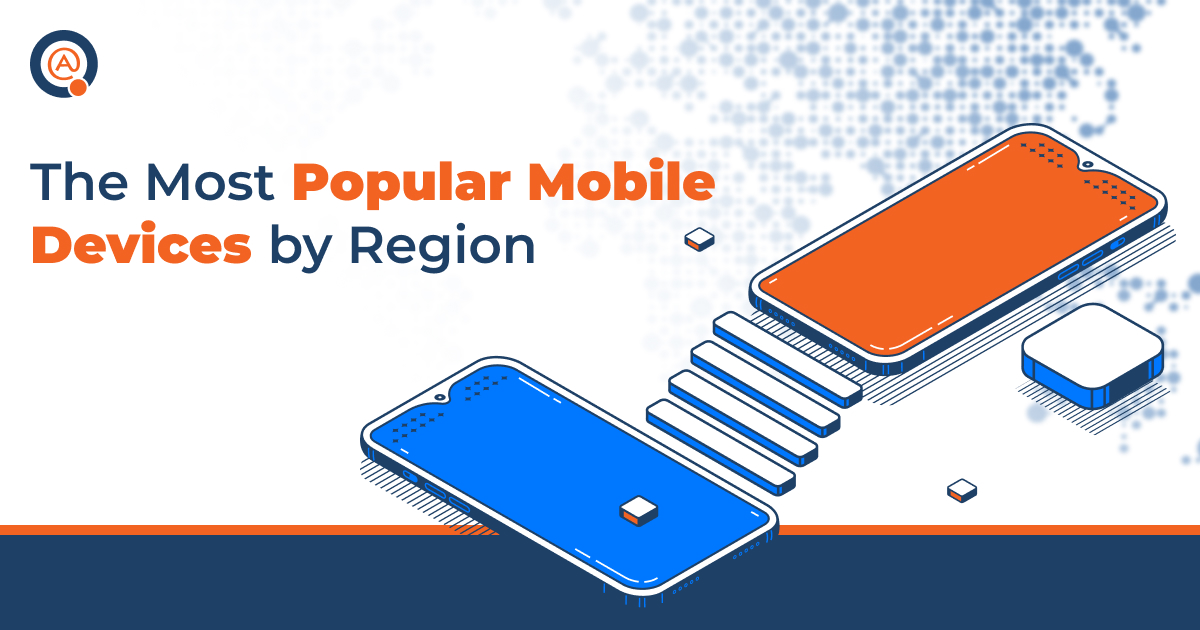 When developing a mobile application, it's important to identify the devices on which users are likely to download your solution. These gadgets should be given priority during the testing phase before the product is released. Otherwise, there's a risk of overlooking bugs that could compromise the user experience.
After the product launch, we can use software like Firebase and MixPanel to analyze which devices are used by users when the app has already been released. This information can be used to determine if there's a need to add or remove devices from the list.
In this post, we will discuss the most popular mobile devices in different regions around the world to help you narrow the selection of mobile phones you need to test your app.
Region: North America
When it comes to mobile devices, North America is a highly competitive market, with many top brands vying for the top spot. According to recent data, in 2022, the most popular smartphones in North America are:
Apple iPhone 14 Pro Max
Apple iPhone 14 Pro
Apple iPhone 14
Samsung Galaxy Z Flip 4
Apple iPhone 13.
Apple iPhone 12
Samsung Galaxy S21
Google Pixel 5
Apple iPhone 11
OnePlus 9 Pro
Samsung Galaxy S20 FE
Samsung Galaxy Note 20 Ultra
Apple iPhone SE (2020)
LG Wing
Samsung Galaxy A52 5G
Google Pixel 4a
OnePlus Nord N10 5G
Motorola Moto G Power (2021)
TCL 10 Pro
Samsung Galaxy A71 5G
These devices are leading the market due to their impressive features, such as high-quality cameras, long battery life, and lightning-fast processing speeds.
The iPhone is particularly popular among younger consumers, while the Galaxy series is popular among older consumers.
Region: European Union
The European Union is made up of many different countries, each with its unique mobile device preferences. However, some devices have proven to be popular across the continent. The most popular smartphones in 2022 in the EU are:
Apple iPhone 14
Apple iPhone 14 Pro
Apple iPhone 14 Pro Max
Apple iPhone 13
Apple iPhone 13 Pro Max
Apple iPhone 12
Samsung Galaxy S21
Xiaomi Mi 11
OnePlus 9 Pro
Samsung Galaxy A52 5G
Samsung Galaxy S20 FE
Xiaomi Redmi Note 10 Pro
Apple iPhone 11
OnePlus Nord
Samsung Galaxy Note 20 Ultra
Google Pixel 4a
Xiaomi Poco X3 NFC
Oppo Find X3 Neo
Realme 8 Pro
Motorola Moto G9 Plus
While Apple and Samsung are the most popular brands in the EU, Xiaomi is quickly gaining ground with its top-quality cameras and 5G connectivity.
Region: Asia
In Asia, the market is more diverse, with a wide range of brands and models available. However, Samsung and Apple are still the most popular brands, with Samsung dominating the market in many countries. In China, local brands like Xiaomi, Oppo, and Vivo are extremely popular, and they have been gaining market share in other parts of Asia as well.
Here are the top popular devices in Asia in 2022:
Apple iPhone 14 Pro Max
Apple iPhone 14 Pro
Apple iPhone 13
Apple iPhone 14
vivo Y33s 5G
Apple iPhone 13
Samsung Galaxy M13
Xiaomi Redmi A1
Samsung Galaxy A04s
realme C35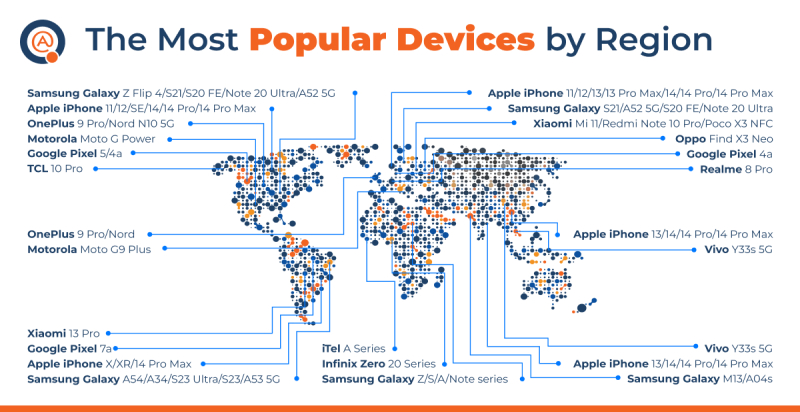 Region: Africa
According to a report by the International Data Corporation (IDC), TECNO is one of the most popular mobile phone brands in Africa. The IDC report states that TECNO is the number one mobile phone brand in Africa in terms of shipments. The report also states that TECNO has a market share of about 21% in Africa. It is followed by Samsung, Transsion, Huawei, and Infinix. These brands are popular in 2021 because they offer affordable devices with decent features and specifications.
Tecno Spark Series
Samsung mid-level A series phones
iTel A Series
Infinix Zero 20 Series
Samsung Galaxy Z series
Galaxy Note series
Samsung Galaxy S series
Samsung Galaxy A series
Region: South America
In South America, Samsung is the dominant brand, with its Galaxy series being the most popular. in 2021. Apple's iPhone is also popular in some countries, but it is generally more expensive and less accessible to consumers:
Samsung Galaxy A54
Samsung Galaxy A34
Samsung Galaxy S23 Ultra
Apple iPhone XR
Xiaomi 13 Pro
Samsung Galaxy S23.
Samsung Galaxy A53 5G
Apple iPhone X
Google Pixel 7a
Apple iPhone 14 Pro Max
To sum things up
It is important to highlight that while certain brands like Samsung and Apple are popular across the world, there is still a lot of regional variation in mobile device preferences. Local brands like Xiaomi, Huawei, and Tecno are gaining popularity in many parts of the world, and it will be interesting to see how the market evolves in the coming years.
So, don't neglect to do some research before choosing real devices for testing your mobile app. It is crucial for the successful launch of your product. If you don't know where to start your research, we would be happy to assist you. With a pool of over 350 real devices in our lab, we will conduct comprehensive testing of your app on the gadgets your target audience uses.
Get in touch with us today and tell us more about your product so that we can tailor our QA services to fit your needs. 
TEST MY PROJECT