It is known that nicely reported software bug looks good to the eye of a tester. And a bug tracker is one of the tools that help to cope successfully with this task. None mobile application testing, desktop testing or web site testing goes without a defect tracking system.
Novice testers often begin familiarization with bug-tracking tools with work with one of the simplest and most convenient bug trackers – Mantis. The system is developed on PHP and distributed freely.
Mantis allows to work with a lot of projects. A project can be changed in the program menu.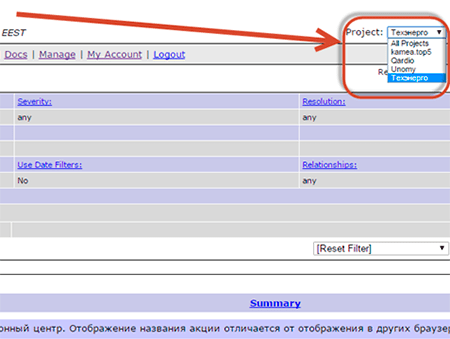 The program interface is peculiar. But as the phrase goes, "Genius lies in simplicity", and if you are fond of simplicity and easiness, you'll like it. There is nothing excessive there; all actions can be performed with a minimum of clicks that protects sensitive testers' fingers from straining and fatigue.
The main functions are standard for a bug tracker. Mantis allows to add, edit, view software bugs. It is very good that there is a function of search using filters, it significantly facilitates the work with the list of errors.
Esthetes will appreciate color indication of the defects statuses that not only adds color to a dull everyday tester's life, but also makes the work easier.
Drawbacks of Mantis Are:
The interface. As mentioned above, it is very convenient and easy, but at the same time it is quite gloomy. Apparently the developers of Mantis are very harsh and unpretentious, but everybody isn't like that, so the system design is more likely a disadvantage.
The program does not have a function of reports creation; this upsets project managers.
The program slowly works with a large amount of information, so it is unsuitable for long-term projects and processing of many data.
Those, who like illustrations, will be upset by the ability to attach only one screenshot. One can add new screenshots after saving, but only one at a time.
Mantis cannot be called an ideal error tracking system. But the ease of use makes it a great error tracking tool. It is suitable for those, who have just been involved in mobile testing, desktop testing and web site testing.
Specialists in manual and automated testing claim that Mantis is an appropriate tool for those, who are not too picky about the design, work on short-term projects and do not need a project management system.
TEST MY PROJECT