This approach assumes that the customer requests the full range of the testing to the testing agency. During this it is a fairly tight integration of the customer's production process and test agency (scheme of integration between companies is shown in picture).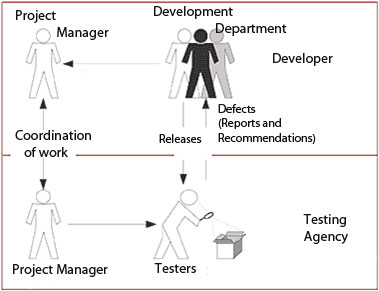 Scheme of interaction between the developer and the test agency with full outsourcing of the testing 
With this kind of cooperation it can be expected that the test agency will attempt to actively participate in the production process, from developing software requirements to ending with software testing. It is possible that the customer's existing manufacturing process with the help of software testers will undergo changes to adapt to new working conditions. For best results, the customer must be willing to allow testers to participate in the process of developing on the early stages of the production cycle, perhaps to discuss the idea of a new product.
Two types of organizations can receive the greatest benefit from this type of outsourcing of software testing. The first type includes those that do not have their own service of quality assurance and testing, but there is a desire to create a similar service. In this case, working closely with the test agency will help to learn the experience in this field.
The second type includes start-up companies that quickly develop the completely new product. Despite the fact that professionals of such companies may have necessary expertise to conduct quality testing, start-up companies usually suffer from a lack of time and are therefore forced to resort to outsourcing.
You should not fall into error, assuming that the independent testing ensures the quality of the product. It is not. Testers help to identify the maximum number of errors produced by the customer code. However, the testers do not correct the error. Therefore, the responsibility for the quality of the product will be based entirely on the IT managers responsible for the development.
The role of testers is to identify existing gaps and getting an objective picture of the manufacturing process and quality of the final product. Furthermore, the tester cannot determine the criterion of sufficient quality for release. Only specialists of the customer, being an expert in the subject area, can give such an estimate. Nevertheless, a test counseling agencies can help in this respect invaluable. Qualified testers will help to find not only the symptoms of the problem, but also to identify the root causes of a particular class of defects. Through the use of independent testing it is systemized the approach to testing in an organization. Thus, independent testing is not a "one-stage tool," it has a long-term positive impact on the quality of software development.
TEST MY PROJECT