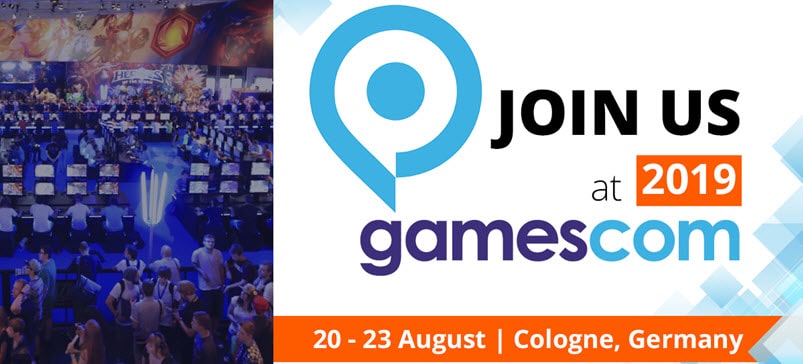 20 - 24 August, 2019, Cologne, Germany
QATestLab, an independent provider of QA and software testing services, attends gamescom, the world's largest trade fair for interactive games & entertainment.

Gamescom was first held in Cologne in 2009 and since then became the largest and most accessible event for gamers. Numerous events bring together gaming experts and enthusiasts from different countries.  In 2018 the event was attended by over 370,000 visitors and this year it is expected even more.

Gamescom 2019 begins on August 19th at 8pm, with an Opening Night Live show, which will provide a first glimpse of the highlights of the upcoming week.

During the week visitors will have an opportunity to visit the following events: Red Bull Gaming Ground, gamescom congress, city festival, cosplay village, gamescom campus,  and gamescom award. Divided in an entertainment and business area, the fair will be opened for general public and trade visitors.

Almost 900 exhibitors have already confirmed their participation in gamescom 2019.
Among them: 2K Games, Bethesda, Bandai Namco, CD Project, Capcom, Dell, Deep Silver, Dell, Electronic Arts, Konami, Facebook, YouTube, Microsoft / Xbox, Netflix, Nintendo, Samsung, Square Enix, Sony, THQ Nordic, Take-Two, Turtle Entertainment, Ubisoft, Wargaming and many more.

Many anticipated games are to be introduced this year at gamescom: Halo Infinite, The Legend of Zelda, Sequel, Breath of the Wild , Cuberpunk 2077, Call of Duty: Modern Warfare 2019, Watch Dogs Legion, Marvel's Avengers, Luigi's Mansion 3, Star Wars Jedi: Fallen Order, Gears 5, FIFA 20 and others.
 
Meet QATestLab team - Alyona Gritsuk, Head of Sales Department, and Maria Avramenko, Business Development Manager at gamescom in Cologne on 20th of August.

If you want to set up a personal meeting, please, write us at contact.ua (at) qa-testlab.com or via Skype.
About QATestLab
QATestLab is an independent provider of QA and testing services. The company provides a full range of software testing services including test management, consulting, test documentation, and quality assurance. It provides the services of quality evaluation of the solution for such industries as e-commerce, e-entertainment, tourism, logistics, e-learning, e-banking, and government.