Game development is a complex process that involves numerous stages, with quality assurance being a critical one. To ensure the success of a game, it is crucial to have it tested thoroughly for bugs, glitches, and other issues before its release. While some game developers prefer to handle QA testing in-house, others opt to hire a third-party vendor. In this article, we will explore the benefits of hiring a QA vendor for testing games and whether it is an economically viable option for game developers.
Perks of Including an Independent QA Vendor in Game Testing
Including an independent Quality Assurance (QA) vendor in the game development process can bring several economic benefits, such as:
Cost saving
While hiring an independent QA vendor may seem like an additional cost, it can actually save money in the long run.
For example, at QATetsLab, we provide a comprehensive solution for our clients that includes a project manager for each project and technical advice and support from QA Tech Lead.
As an independent QA vendor, we also take care of:
controlling compliance with high quality and productivity standards;
sick leave and vacation management;
minimizing the risks of missing deadlines through comprehensive service;
undertaking free recruitment and onboarding of a new tester if needed;
all expenses related to taxes, office rent, equipment, utilities, and social benefits.
Besides that, involving an independent vendor will ensure that the game is thoroughly tested before release, minimizing the chances of costly bugs and glitches that could require expensive post-release patches.
As we mentioned in this article, the cost of a bug goes up depending on how far down the SDLC (Software Development Life Cycle) the bug is found. When a bug is found in production, the code needs to go back to the beginning of the SDLC so the agile development cycle can restart.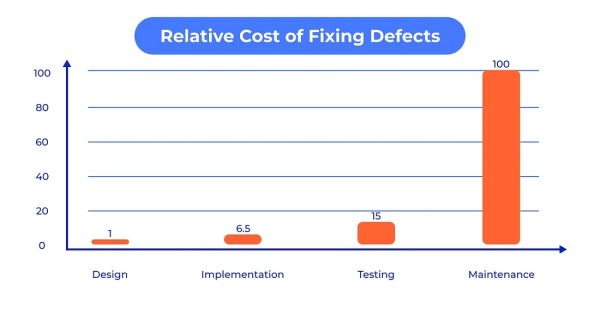 Improved customer satisfaction
A high-quality game with fewer bugs and glitches is more likely to satisfy customers and generate positive reviews, leading to increased sales and revenue. An independent QA vendor usually has experience in testing similar products and can provide valuable insights and recommendations on product improvement.
Reduced time-to-market
An independent QA vendor can help ensure that the game is launched on time, as they can provide round-the-clock testing services and free up in-house resources to focus on other tasks.

Better focus on core competencies
Game developers can focus on their core competencies, such as design and development, while an independent QA vendor can focus on ensuring the game meets quality standards and best practices of user experience.
Risk mitigation
An independent QA team can help mitigate the risk of negative publicity, lost sales, and reputational damage due to the release of a game with significant bugs or glitches. It is possible since independent QA vendors will never confirm a buggy build for release or production, as product quality is their first and foremost priority.
Faster time-to-market
By identifying and fixing issues early in the development process, independent QA vendors can help speed up the time-to-market for your game.
In the early stages of game development, it is not always necessary to have an in-house QA team, as there is not much work to be done. In this case, the best solution is to engage a third-party company that will be flexible and connects only for the required number of hours. This will allow game developers to save money on QA and, at the same time, prevent further development of a buggy product that will become more and more expensive to fix over time.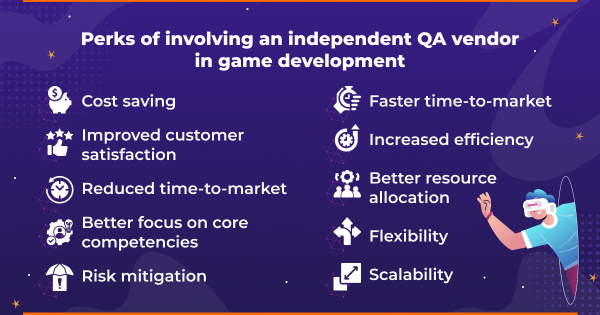 Increased efficiency
Independent QA vendors can help increase efficiency by providing a dedicated team of experts who can focus solely on testing and quality assurance.
Better resource allocation
By outsourcing QA services to an independent vendor, you can free up internal resources to focus on other business activities and specific tasks that are unique to a particular project and require a lot of onboarding time for new specialists.e
Flexibility
Independent QA vendors can provide flexible testing services that can be tailored to meet your specific needs in terms of increasing/decreasing the team, collaboration launch day, and schedule, and involving QAs with relevant practical experience for dedicated tasks.
Scalability
Independent QA vendors can provide scalable testing services that can grow or shrink as your needs change. Also, QA vendors can combine different models of cooperation and involve QAs with different experiences and competencies to cover all the requests in manual and automation testing as well as perform absolutely different types of testing.
Wrapping up
Overall, including an independent QA vendor in the game development process can improve the quality of the final product, reduce costs and time-to-market, and help the game developer focus on their core competencies.
Looking for a reliable QA vendor with an outstanding experience in game testing? QATestLab is here for you. Check out our website dedicated to game testing to learn more about our competencies and case studies.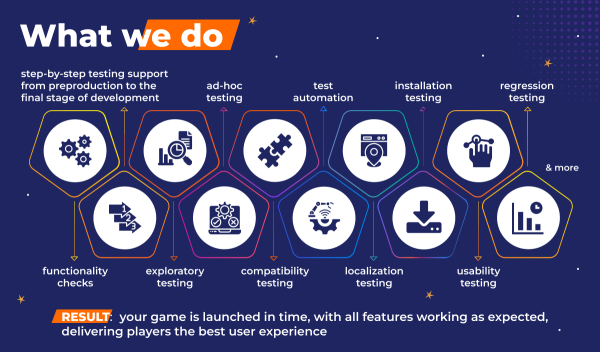 TEST MY PROJECT