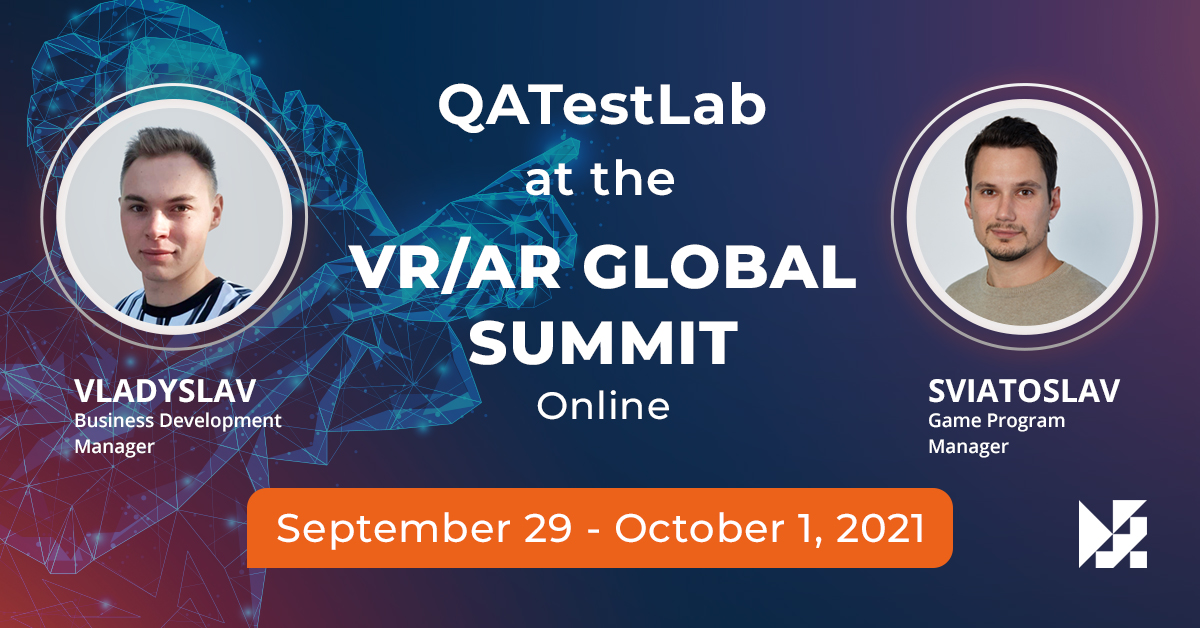 This year QATestLab attended the VR/AR Global Summit, which took place from September 29 till October 1.
The conference gathered many experts from various industries in which VR/AR is used to discuss the future of the virtual and augmented reality, specifics of the technology's implementation, and current tendencies. 
Sviatoslav, a Game Program Manager from QATestLab, tells us his impressions about the VR/AR Global Summit 2021:
"Many large and influential companies such as Microsoft, Sony, Hewlett-Packard, and others participated in the conference. It was a great opportunity to talk to their representatives.

Discussions centered around the importance of the VR/AR technology, its rapid expansion in the modern world, and the tendency for it to become even more important in the future.

The focus was also on the technical aspect of VR/AR and the challenges of its implementation.

It was an enlightening experience for me."
Vladyslav, another participant of the VR/AR Global Summit from the QATestLab team, adds:
"It was a large-scale conference that covered companies from all over the world.

I enjoyed many lectures and discussions, especially those about AR/VR in education and medicine and about the AR/VR trends in the game and entertainment industries.

I also really liked the networking block on the conference platform which allowed to connect to random event participants and talk to them for 3 to 9 minutes. This way I got a chance to talk to many incredibly interesting people from different fields."
As for the topic of software testing, Sviatoslav and Vladyslav agree that many conference participants recognize its importance. Our team members also emphasize that QA is crucial for positive user experience with VR/AR technology.
We are grateful to both the organizers and participants of the VR/AR Global Summit 2021 for a chance to learn and connect, deepen our knowledge about virtual and augmented reality, and network with many amazing people.
We wish the implementation of VR/AR in your product to be smooth and QA to be efficient.