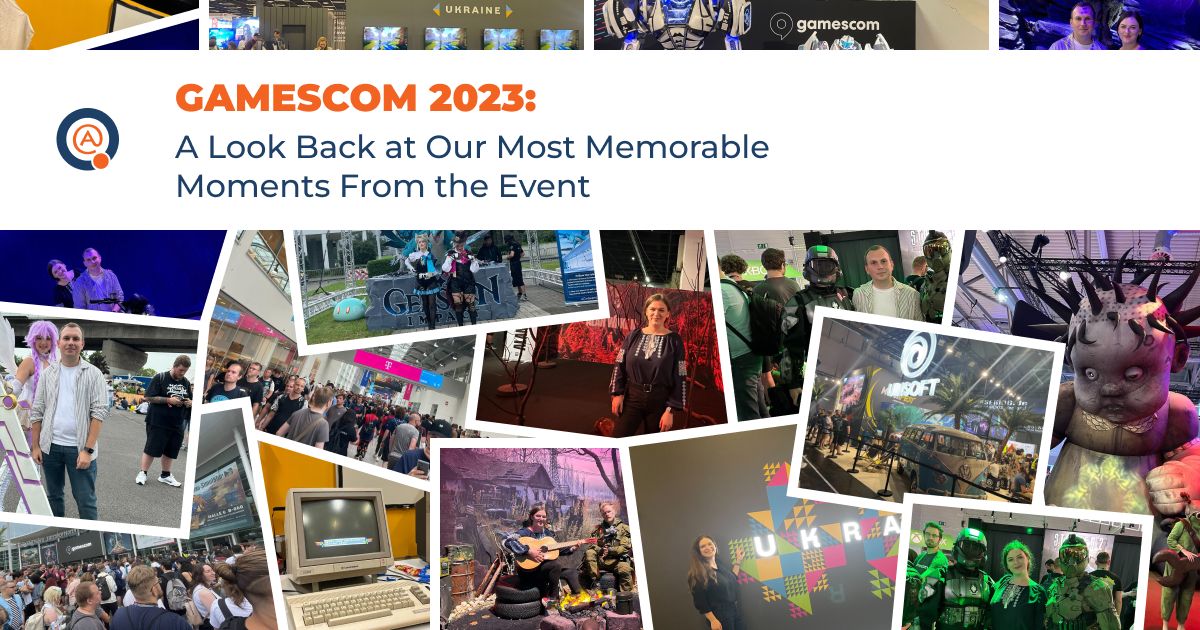 The curtains might have closed on Gamescom 2023, but the memories? They are still in replay mode, and QATestLab is thrilled to recall some of the standout moments from our time amidst this grand celebration of all things games.
Firstly, the magnitude of Gamescom 2023 was nothing short of awe-inspiring. Many participating countries and a lot of major game studios exhibited their full potential in designated zones, so the attendees were teleported into distinct gaming realms. These areas showcased the innovations and talent of the gaming world in the most creative ways possible. And, let's just say, trying to visit every single one of them in five days was quite a challenge.
However, beyond the sheer scale, what truly amazed us was the exponential increase in attendees day by day. Those hoping to get a firsthand experience of blockbuster games on the first day of the event had to wait up to 2 hours in lines. On the last day? Wait times for some top-tier games extended to a staggering five hours! Everything to get a taste of the community's favorite, as well as some freshly released games. This surge in the number of visitors is a true testament to the anticipation and excitement Gamescom generates each year.
Among the wide variety of gaming showcases, two zones genuinely resonated with our team: The Indie and Retro game areas. Positioned near each other, these sections provided an inspiring juxtaposition between the rich and nostalgic history of gaming and the cutting-edge innovations from independent creators. The Retro zone, decorated with classic PCs, consoles, and old-school games, was an emotional trip down memory lane for every game fan.
Moreover, Gamescom demonstrated its finger-on-the-pulse approach with zones themed around contemporary TV sensations like 'Wednesday', 'Squid Games', 'Stranger Things', and "The Witcher". These spaces offered a tangible gateway into the worlds of those hugely successful shows, allowing visitors to step right into their favorite stories.
Importantly, Gamescom 2023 went beyond just being an entertainment epicenter. The thoughtful division of the event's vast area into general and business zones was a great solution for an event of such scale. While the general zones were a whirlwind of activities and presentations, the business area offered a calmer environment for discussions between teams. It was a valuable opportunity for us to meet talented game creators in a quieter space and have insightful conversations about their games, the future of the industry in general, and, of course, the most successful approaches to game QA.
All in all, our time at Gamescom 2023 was a blend of fun, learning, and networking. Our heartfelt gratitude goes out to the organizers for bringing such a cosmic event to life and uniting the whole gaming community. 
It will be hard to top that marvelous experience, but we are convinced that next year's Gamescom will do just that. Until next time, game aficionados!