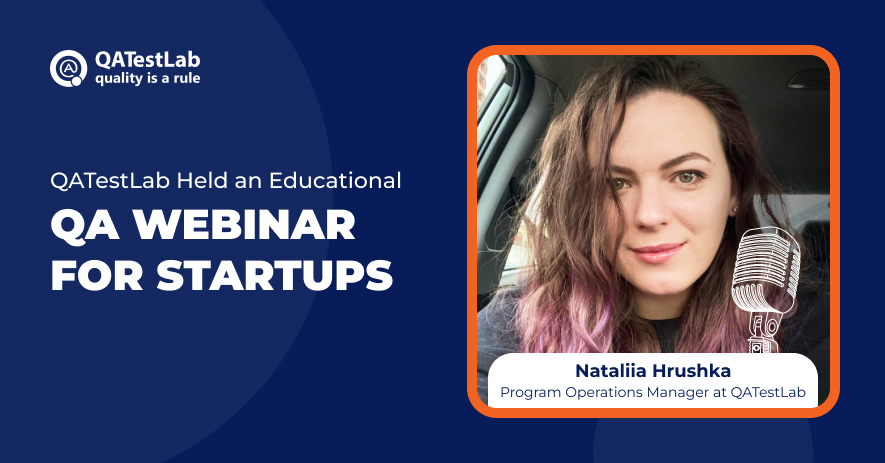 Last month, the team of QATestLab participated in a mentoring program for startups by arranging an educational webinar on the best QA practices for young companies. During the event, Nataliia Hrushka, a Program Operations Manager from QATestLab, highlighted the most important aspects of building a successful QA strategy and illustrated this insightful information with the help of case studies from the company's portfolio.
In February, QATestLab was proud to become a part of a mentoring program for tech startups that aims at accelerating their growth with a focus on the impact tech direction. To contribute to this goal, our team held a webinar on how to achieve a balanced QA approach in startups. Our speaker Nataliia Hrushka, an experienced Program Operations Manager, discussed the following topics with the participants:
Receiving customized QA services to match the specific requirements and budget of a startup;
Setting up QA processes from scratch;
The benefits of independent testing providers in terms of saving time on hiring and onboarding QA engineers;
Delegating QA management to experienced specialists;
The importance of testing software on real devices for maximum accuracy of test results.
Since QATestLab has great experience in supporting tech startups with the release of successful software products, the webinar attendees also received valuable practical tips based on our case studies. They were related to solving and preventing common QA issues, which may be challenging for young companies, as well as building an efficient QA strategy to make sure that testing processes are properly integrated into the development life cycle.
QATestLab stands by Ukrainian startups and will continue helping them bring innovative ideas to life. We are truly grateful for an exciting opportunity to share our knowledge and experience with startup teams, and we do not plan to stop at this. In addition to supporting businesses from different industries by providing expert QA and testing services, our company also sees its mission in fostering a QA culture and popularising testing practices that really work.
This is why we will keep looking for more opportunities to inspire teams to test their software from A to Z, contributing to the world of high-quality products and satisfied users.