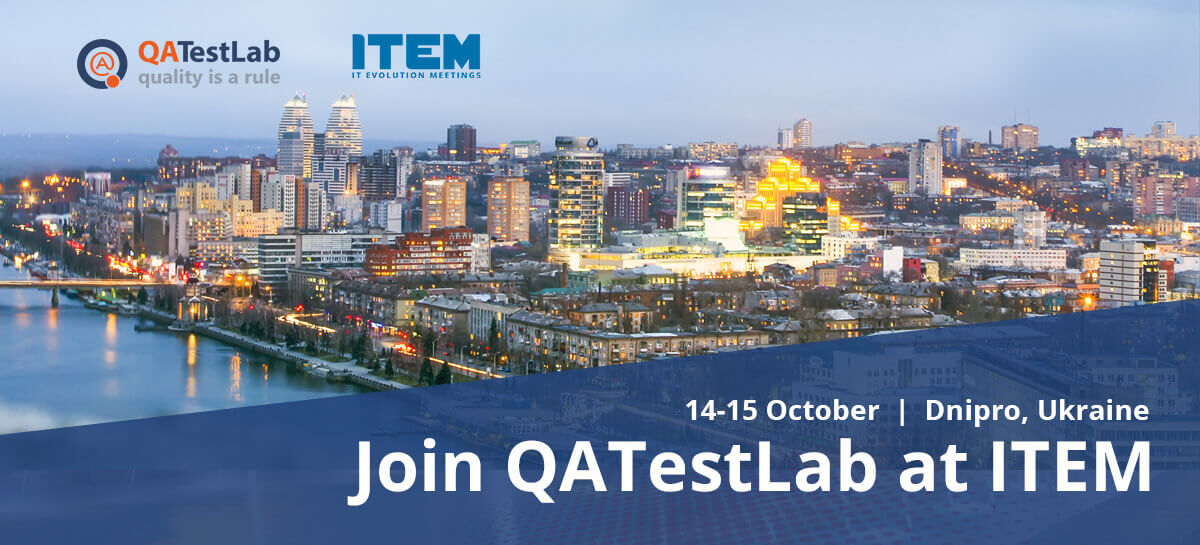 14 - 15 October, 2018, Dnipro, Ukraine
QATestLab, an independent provider of QA and software testing services, attends ITEM, one of the biggest and most significant IT conferences in Ukraine.
ITEM's mission is to give tools and frameworks for software development, that will help IT companies to create innovative and successful products. Also, the event provides valuable insight into teamwork, organization structure, and company culture.
This years' conference focuses on:
Sales & Business Development
Project & People Management
Product Development
Security
Quality and Mobility
This year the conference will gather more than 800 participants and 40 speakers from different countries. In addition to useful topics and exciting discussions, there will be a lot of communication with IT industry leaders, workshops, lounge area, and networking activities.
Among partners of ITEM 2018, there are companies interested in the creation of a new era of software development in Ukraine, including AMC Bridge, SoftServe, Archer, DataArt, and Railsware.
Moreover, many experts engaged in the last years' conferences work in such giant and prominent companies as Google, Facebook, Siemens, Microsoft, Pinterest, Spotify, GitHub, Oracle, Lenovо, Skype and Stanford University.
Meet QATestLab team - Alina Mironova, Senior Bisiness Development Manager, and Irina Moshchenskaya, Business Development Manager, at ITEM.
If you want to set up a personal meeting, please, write us at contact.ua (at) qa-testlab.com or via Skype.
About QATestLab
QATestLab is an independent provider of QA and testing services. The company provides a full range of software testing services including test management, consulting, test documentation, and quality assurance. It provides the services of quality evaluation of the solution for such industries as e-commerce, e-entertainment, tourism, logistics, e-learning, e-banking, and government.