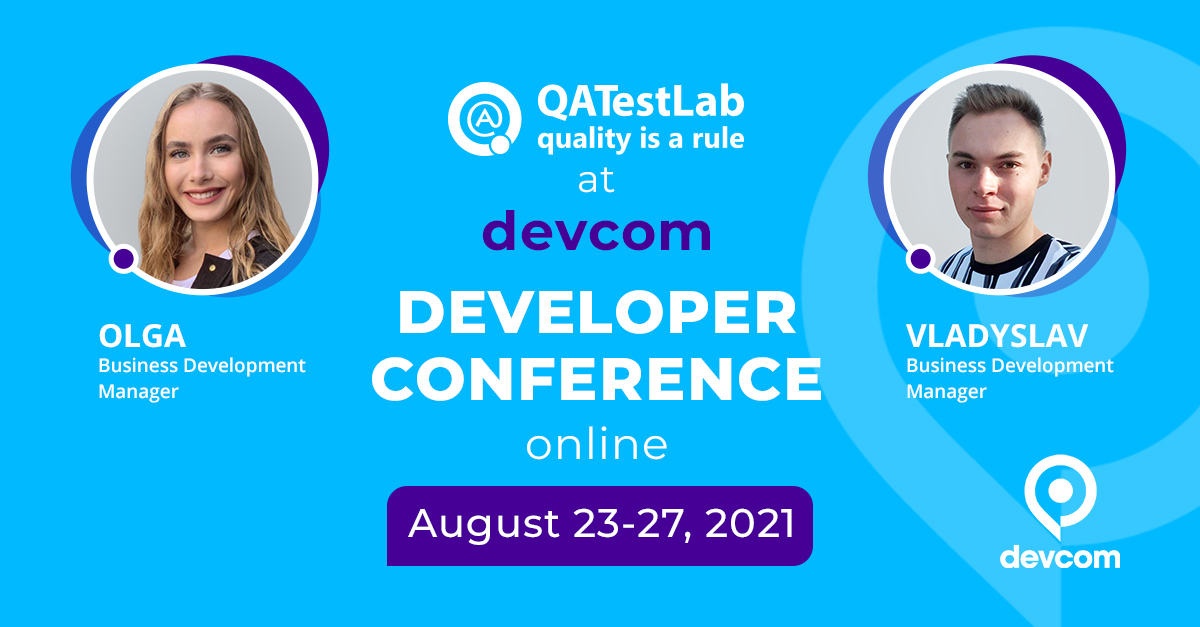 On August 23-27, QATestLab took part in devcom Developer Conference (DDC). 
DDC 2021 was an online event that gathered many talented game developers, prominent publishers, large and small game companies, and providers of game-related services from all over the world to talk about games and the game industry in an amicable and creative atmosphere.
Vladyslav, a Business Development Manager from QATestLab, describes his experience at the conference:
"I liked how approachable people were at DDC 2021. I was able to meet with many friendly game experts open to cooperation and had a chance to talk to a lot of interesting people working in this field.
I also really enjoyed the fact that DDC gave all the participants an opportunity to play demos of many newest games on Steam. 
The conversations in the meeting rooms and the virtual cafe were also interesting, with people discussing the state of the game industry and the current pressing issues, such as for example the coronavirus-related situation."
Olga, another participant of DDC 2021 from QATestLab, adds,
"The atmosphere at this conference was very creative. It was also a great opportunity to meet many amazing game experts.
Another thing I really liked was the opportunity to learn about the latest products in the game market."
During discussions of the latest games, the topic of bugs was addressed from time to time. 
Vladyslav remarks, 
"This is exactly why game testing is so important. A game can have an amazing potential, but even one serious bug in it would drop its rating in the major stores. QA before the release can prevent it from happening. But even later, when the rating is already low, testing can help identify the problem, fix it, and make the game popular."
Olga adds,
"Game testing is a great and important way to improve user experience. In the end, players' enjoyment when playing a game is the ultimate goal of a game. And testing can help to safeguard that enjoyment."
We thank the organizers of DDC 2021 for giving us an opportunity to meet with many amazing people, discuss games, and check the newest products. 
We hope you all stay safe, participate in many more gaming events, and always thoroughly test your games.