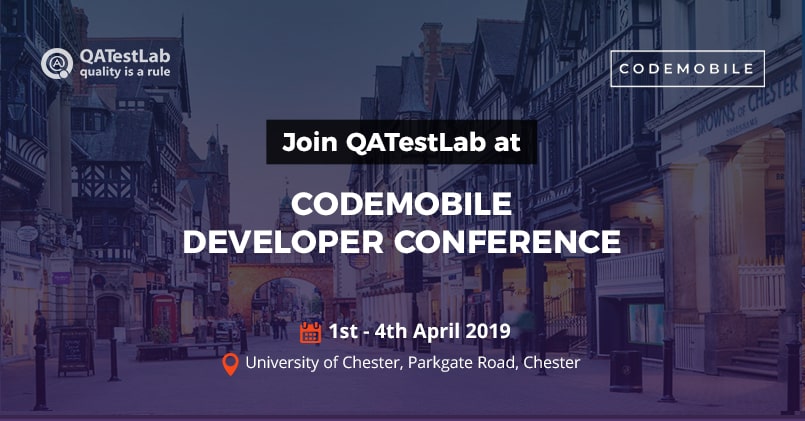 1st - 4th April, Сhester, United Kingdom

QATestLab, an independent provider of QA and software testing services, attends the Codemobile Developer Conference in the city of Chester, UK. This event was initiated to create a space for gaining and sharing the experience and ideas in Mobile Developing. The main theme of the conference will cover the fields of IOS and Android developing.

The conference is organized by developers, and due to the lack of such events out of London, the collaboration is expected to be extremely interesting. One of the priority goals of the event is to perform training for developers and specialist focused on software, programming languages, QA testing, and IT management. Participants will be provided with new opportunities for cooperation in Mobile Developing and apps related fields.

This event is an ideal developer CPD training opportunity both for Android and IOS Developers. During the conference, speakers will present the peculiarities of such languages as Swift and Java. Visitors will also be able to attend various workshops, such as Building a REST API in Vapor, the popular server-side Swift framework. In this workshop, you'll know how to save models and set up relationships in a database.

Another event from the list is App Architecture workshop. Here, you will work through an IOS project that has some fundamental flaws, all of which can be fixed through the application of design patterns like delegation, coordination, and dependency injection. Working in pairs, you'll first read through how each pattern works, then solve challenges in the project, so you apply the pattern in real-world code.

The discussion will also cover such topics as "Three Approaches to Animations on Android" performed by Matt Carron from Compare the Market, whose code was running on games consoles from the GameBoy to PS3. His colleague Neil Dodd will present the talk "The Behind the Scenes Story of a 5 Million Downloads App".

QATestLab team will be represented by Natalia Ruda - Program Operations Manager and Alina Mironova - Senior Business Development Manager. Our colleagues will join the conference to disclose and share with you all the insights of mobile developing and explore new directions of cooperation.
If you want to set up a personal meeting, please, write us at contact.ua (at) qa-testlab.com or via Skype.

Join us at the Codemobile Developing Conference and let's reveal the secrets of mobile developing together. Watch our further news about attending this conference and participate in other IT events with us. Do not miss the information around you!


About QATestLab
QATestLab is an independent provider of QA and testing services. The company provides a full range of software testing services including test management, consulting, test documentation, and quality assurance. It provides the services of quality evaluation of the solution for such industries as e-commerce, e-entertainment, tourism, logistics, e-learning, e-banking, and government.