May 29 - 31, 2018 London, GB
Casual Connect is a conference aimed to support game community and to promote the development of game industry. It gathers top experts to share their knowledge and enables different specialists to network and learn. More than 200 speakers will talk about innovations and trends of game industry.
Don't miss great opportunity to listen to lectures dedicated to game development, to increase knowledge about the industry, and to establish new business relations.
QATestLab is proud to be a part of such a great event. Meet Alyona Gritsuk, the Head of Sales Department at QATestLab, and Mikhail Grechukha, Program Manager at QATestLab, in London on May, 29 - 31.
At Casual Connect, we will have a booth where you can find all the required information about our company and services. Here is the map.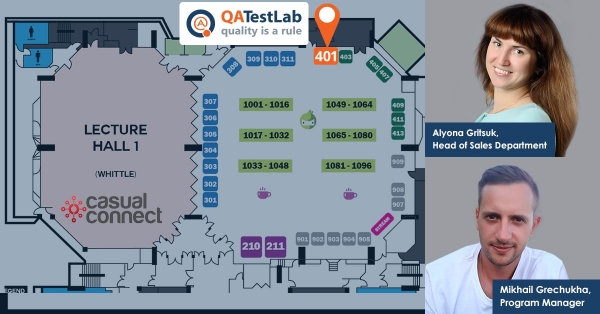 If you want to set up a personal meeting, please, write us at contact (at) qa-testlab.com or via Skype.
We do believe in games!