Installation testing is one of the most important parts of testing activities. Installation is the first user's interaction with your product.
It is very important to make sure that user does not face any difficulties while installing the software.
Installation testing is aimed to verify the successful installation and upgrade or uninstallation of software. Currently, the installer use is the most common software installation (special programs, which also require proper testing).
It is even more important now as there are different ways to distribute the software. Instead of traditional method of software distribution in the physical CD format, software can be installed from Internet, from a network location or even it can be pushed to the end user's machine.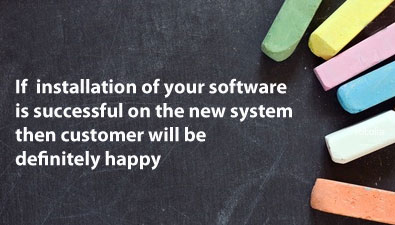 The type of installation testing that we perform will be affected by the following factors:
What platforms and operating systems are supported?
How will be the software distributed?
Who will perform the software installation?
Our installation testing service includes integrated approach with writing test plans, step by step test setup and roll back the installation.
Therefore, the installation testing in software testing is a very necessary and important process, which allows a program to work properly and in the right way. The purpose of the testing java installation is to satisfy the needs and requests of the users of the application. In order to achieve this aim, the testing process takes into consideration the installation, setting up, uninstallation and upgrading of the software.
The main task and assignment of the installation testing is the verification such aspects and moments in the work of the installer:
The correctness of the list of files in the installation package.
The registration the application in the OS.
The permissions and rights of the user.
The correctness of the Setup Wizard.
The validity of the list of files and the absence of the unnecessary files.
The interruption of the renovation and upgrading.
The proper uninstalling of the application.
However, it also should be mentioned, that the list of the missions and targets of the installation testing is not full. Only the comprehensive approach to the testing, which includes the writing plans, testing the setup and installation step by step, can be called the installation testing.